If you have errors installing empower, please follow these steps:
1. Uninstall empower slides for macOS
First, stop the empower Sync. To do this, open the Activity Monitor, which you can find in the Utilities folder. Now you get an overview of all active processes. In this list, search for the empower Sync process, select the process and press the red icon at the top left of the window (Quit Process). Confirm the following security question whether the process should really be terminated with "Quit" or "Force Quit".
Then delete the com.madeinoffice.empower.sync entry from the keychain:
If your keychains are not visible in the Keychain Management app on the Mac , choose Window > Keychain Management.
Select a keychain in the "Keychains" list.
Choose "File" > "Delete keychain " com.madeinoffice.empower.sync".
Click on "Delete references".
Restart empower.
2. Reinstall empower
To do this, please follow the steps under the following guide: Installation guide for empower macOS
3. Please collect the sync & install logs
You can find the empower log files on macOS as follows:
Go to your Finder and press "cmd-shift-G" or select "Go to" and choose "Go to folder". Copy and paste the following paths.
Install log: /var/logs/install.log
Sync log: ~/Library/Group Container/UBF8T346G9.Office/empower/Logs/Sync
4. Collect your PPT and macOS version
Press the Apple logo in the top left corner of the menu bar and open "About this mac"..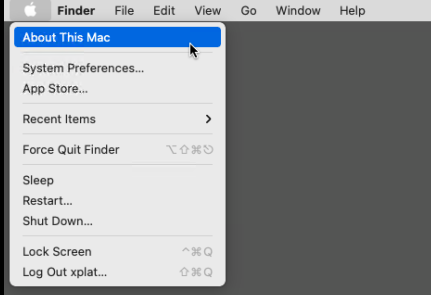 Afterwards, the following window should open: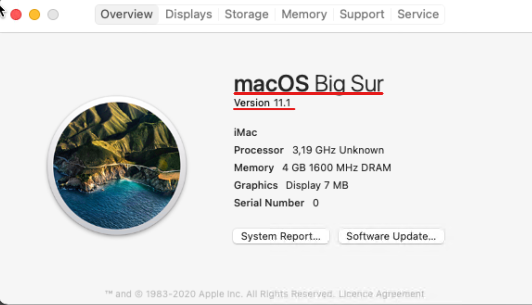 Checking the Office Version
Open any Office application, such as PPT or Excel.
Go above the menu bar and press PowerPoint --> "About PowerPoint".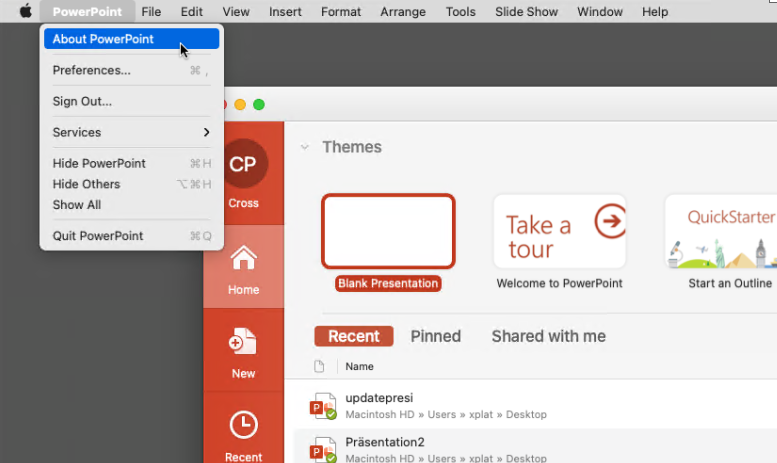 The following window should open: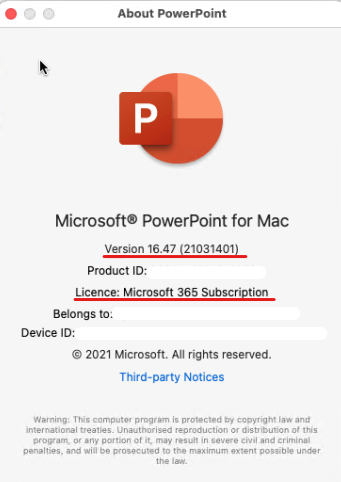 5. Contact us with the above collected information via mail.
Do you still have questions?
If you have further questions, please do not hesitate to contact us.