First, make sure you are connected to the Internet. If you are connected, proceed as prescribed by the error message.
Please check if the information for your connection (Connection String and possibly Credentials ) is stored in the Windows Registry.Open the Registry, by typing "regedit" in Windows Start Menu and then press Enter.



The needed Connection String should be found in the following registry path.
[HKEY_LOCAL_MACHINE\SOFTWARE\Made in Office\empower\Core \],
or
[HKEY_LOCAL_MACHINE\SOFTWARE\WOW6432Node\Made in Office\empower\Core \].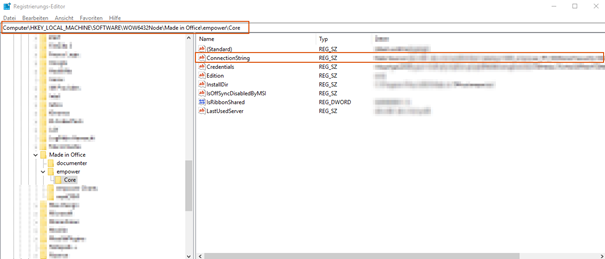 If the connection data exists, check whether the server specified in the connection string (Data Source), and the database (Initial Catalog) are correct.
If the data does not exist, contact your system administrator to obtain the appropriate registry key.
Check your firewall settings, more information can be found under Required ports for empower® slides
The user does not have permissions on the database
Note: This step can only performed by a system administrator with access to the empower® database. Contact your IT for further assistance.
Check the rights of the affected user in the database.
Open the SQL Server Management Studio and navigate to the database.
2. Open the Security folder and then Users. There you can see users and groups who have permissions.
3. Check, if necessary, the individual or group with a legitimate R genuine click.Click on "Properties" and look under " Membership " to see if the empower® role is active.
Do you still experience problems? Prepare your contact with our Support beforehand:
Open the Windows Start Menu and type in "empower® Diagnostic Tool". Confirm your input with Enter.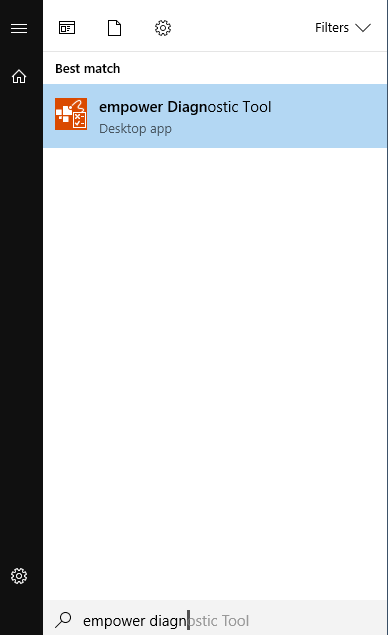 This will now run the Diagnostic Tool;click on "Run Diagnosis" and wait for the result to load.
Document the result with a screenshot (e.g. using a tool such as Snipping Tool).
Next, open the Windows Explorer and search for the logfiles
You can find the empower® Log-Files in the folder %localappdata%\Made in Office\empower\Logs. You can copy the path directly into the address bar of the Windows Explorer.

When completed, please contact our support with the collected information.