Yes, this is possible. To do so, click on Data in the function bar above the chart and click on Open link source. Here you can add, edit, remove as well as select the relevant areas.

Alternatively, you can choose the way via the Excel Link Manager. To do this, click on Excel Link in the top PowerPoint menu bar (ribbon) within the empower Charts section and select the Excel Link Manager menu item.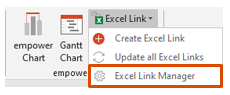 This takes you to the Excel Link Manager. All links to an external Excel table are now displayed there.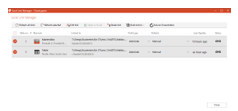 Now simply click on the appropriate path (recognizable as a hyperlink) to open the Excel file and edit it. Then, after editing the Excel file, click on Update just above the chart or in Excel Link Manager to update it.
More information can be found in section Excel Link Manager